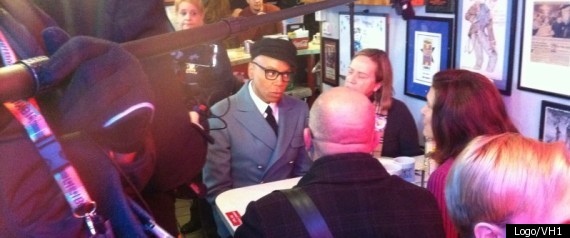 There's no telling what might happen when America's best-known drag queen hits the presidential campaign trail.
Visiting New Hampshire just a few days before the state's primary, however, RuPaul made sure to clarify any lingering confusion voters may experience between him and that similarly-named Republican candidate, announcing, "I am not Ron Paul, and I am not running for president of the United States!"
The "Drag Race" host made a surprise appearance at Manchester's Red Arrow Diner, known as a must-stop on the presidential campaign trail, where scenes for the upcoming season of Logo's popular reality series, which debuts Jan. 30, were shot. Looking buttoned up as he interacting with guests, RuPaul whipped the crowd into a frenzy with a few choice quips. "You betta vote!" he told the crowd.
And anyone mistaking the drag queen for one of the nation's founding fathers actually wouldn't be too far off the mark, he noted: "Remember, this country was founded by a bunch of men wearing wigs!"